Strongest Safest Heavy Duty Dog Crate on the Market
If you have a Separation Anxiety or a Noise Phobic dog we can provide the strongest, safest heavy duty dog crate available for your dog especially if your dog is a large, strong breed. Until now we concentrated on simply providing the strongest dog crates, and yes, they still work just fine. The Heavy duty dog crate has evolved.
Enter the world of high anxiety heavy duty dog crates at CarryMyDog.com. These crates are for larger stronger dogs with high anxiety issues. This strongest heavy duty dog crate is not just about strength. We think your dog should be safe in his or her new crate. Our customers report that their separation anxiety dogs settle surprisingly fast in these crates.
SAFEST HEAVY DUTY DOG CRATE EVER!
The wire portion of this strong crate is made of 4.5 gauge welded steel wire. The wire is almost a quarter of an inch thick and welded to another piece of wire every 2″. When or if your dog tries to break this wire he or she discovers that it won't move, so they move on to checking other parts of the crate
STRONGEST HEAVY DUTY DOG CRATE MADE
We challenge you to find a stronger crate anywhere on the market. The 4.5 gauge welded steel wire is framed with 16 gauge x 1″ square steel tubing. It just doesn't get any stronger than this. We know that this crate will hold any dog you put into it. We don't care how big or how strong. This strong crate is backed by a 10 year no escape warranty. Once you see your new Xtreme® heavy duty dog crate, you will know, without a doubt that you made the right decision for your dog and your family.
This crate is not anything like the wire crates your dog has been escaping from. The wire on those crates is 16 to 20 gauge wire. The smaller the number, the thicker the wire which means 4.5 gauge is strong enough to hold your dog without escaping and without damage to the crate.

Door Locking Engineering – Compare to other Heavy Duty Dog Crates
The doors on all these crates are secured with the legendary Schlage deadbolt. Yes, just like the one on your front door. Each crate comes with one non-locking Schlage deadbolt but, we offer options. You can order your crate with as many doors and deadbolts as you want. You may wish to have 2 non-keyed locks on the door. Some customers like to put one non-keyed for everyday repetitive use and one that's keyed for when they're away. This works exceptionally well in the SUV or van whether it's a single crate or a bank of crates. When you compare the deadbolt design to the weak locks on other "so-called" heavy duty dog crates, you will appreciate the security delivered
by Xtreme® Dog Crates and the Schlage deadbolt.
This strongest crate arrives at your door assembled and strapped to a pallet. We have crates that go up to XXX-Large so, please do measure your doors to be sure you can get these largest crates inside your home.
The door
The Xtreme® Heavy Duty Crate provides a huge door for your dog. There will be no more ducking the head or scratching the backbone when entering or leaving these crates. If you are concerned about the height of the door just let us know when you are ready to order and we will provide a full-length door at no additional charge. Super strong hinges make this crate so easy to take apart and assemble without tools.
Drop-Pin Design
Perhaps I have buried the lead. All Xtreme® crates are made with their "drop-pin" design. Just drop the pins supplied into the hinges and other places for assembly in under 5 minutes without tools. See what we mean in this video.
The Warranty
All Xtreme® crates carry a 10-year no-escape warranty because these crates are indestructible.
Your new Xtreme® dog crate from CarryMyDog.com is covered by a manufacturer's warranty for 10 years to the original purchaser. It covers defects in materials and workmanship. Replacement decisions are made by the manufacturer. Just give us a call should you have concerns about any problems with your heavy duty dog crate. The warranty does not cover rust. It is a steel product which can rust although the elegant powder coating will defer rust for a very long time.
Why would a manufacturer put such an extended warranty on a product? The answer is simple: because we know your dog can't break this crate.
To Recap
Maximum ventilation
Thicker metal makes for a stronger crate
Arrives assembled – no assembly required
Schlage deadbolt for maximum door security
No bars to bend or remove
No vent holes to chew
Escape-Proof design and materials
Indestructible steel
Drop-Pin design means – No Tools Required for assembly or disassembly
Super thick 4.5 gauge welded steel wire mesh
2″ x 2″ openings in steel wire mesh
The crate is welded everywhere metal touches metal
Sturdy 16 gauge square steel reinforced frame tubing
The collapsible feature means easy transport or storage
Collapsible means it will fit through any existing door
Powder coated for rust resistance & long life
10 Year Warranty to original purchaser
Copper Vein color is standard on all these crates
Available in custom colors (optional) See drop-down menu
So if your big strong dog needs a heavy duty dog crate, escape-proof and indestructible, then you will want to see this strongest safest crate at www.carrymydog.com. Yes, it is expensive, but the expense is relative. This crate is cheaper than a new couch or a $3,000 vet bill for tooth repair or other surgery. The list is endless. If you're searching for truly heavy duty dog crates, then you already know that the crate will pay for itself within days or certainly just a very few weeks.
Testimonials from a couple of dog owners who have one of the Xtreme® Heavy Duty Dog Crates from CarryMyDog.com
….from WISCONSIN
Morning Bill,
Sarge has been doing very well in his new "Castle".  He always goes right in without a fuss and, as far as I can tell, he doesn't even bother trying to get out.  I think he understands that he has no chance and the construction doesn't allow him anywhere to grab a hold of.  I can't tell you the peace of mind of being able to come home and know that I won't have to add to my list of 4 windows, a door, a whole wall, 200+ feet of fencing, my brand new 55″ 4K TV, and more, of destroyed items.  With the easy to remove door, he even goes in there on his own when we are just hanging out.  I think because of the size and
construct, it feels more like a real secure room for him than a prison.
Anyway, I can't thank you guys enough for giving me my life back and the quick shipment.  Between the security and the ridiculous ease of the put up and tear down, I simply couldn't recommend any other cage for people with anxious or problematic dog companions in their lives.  Well worth the price.  I have included a few pictures and, aside from needing a better-shaped bed, you can see Sarge sitting pretty in his castle.  The size really gives him a lot of room to move around in, and I feel far less bad about putting him in there than I did the smaller crates.
Thanks again for your help.  You gave me my life, and my dog, back to me.
John B. ….from WISCONSIN
….FROM MISSOURI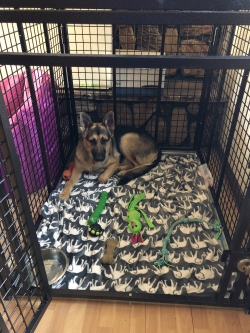 Bill,
I Love the cage and will be bringing it with us to NY when we visit family. It was a great investment, and I'm so glad I did this!!
Lisa A. 
So give us a call. Let us help you save your dog, your furniture and yes, your home! The right heavy duty dog crate can do all those things. You can see more testimonials and photos here.
Get your new High Anxiety heavy duty dog crate on order today!
About The Author
Bill Beavers, brings you pet products that provide improved Quality of Life for You, Your Family and Your Pets.
You can connect with Bill on Twitter or Facebook and follow his latest projects. For Fun, Facts and Love for our pets follow this blog for informational and entertaining posts and cool tips.